Chocolate Rocky Road Ice-cream
Ice cream might be one of the most disastrous nutritional health bombs available at the supermarket. The perfect balance of sweet, creamy, and rich but refreshing came to hold residency in the chiller aisle by no mistake. Food scientists know the balance of sugar, fat, and milk set off bliss circuits in our brain. Being one of the most delicious foods on the planet, ice cream too easy to over eat. Also by replacing more nutritious foods, regularly eating ice cream can be detrimental to the overall nutritional quality of our diet.
Following a healthy lifestyle is about eating to feel great and enjoying it. With this philosophy, I'm always experimenting to find a healthier alternative to devious foods like ice cream. May I emphasise, this ice cream alternative is a weekend treat in our household. It's not a free food, but it's a more nutrient-dense alternative to commercial products.
I came across this recipe from Danielle Walker's AgainstAllGrain.com
My modifications have involved removing the spices (we're not so into the chilli-desert idea), using stevia in place of sugar/maple. I also used sugar-free marshmallows and chocolate chips. Do note, however, these additions do come with a price point.
This is my take on Danielle Walkers Dairy Free, Grain Free…everything free chocolate ice cream.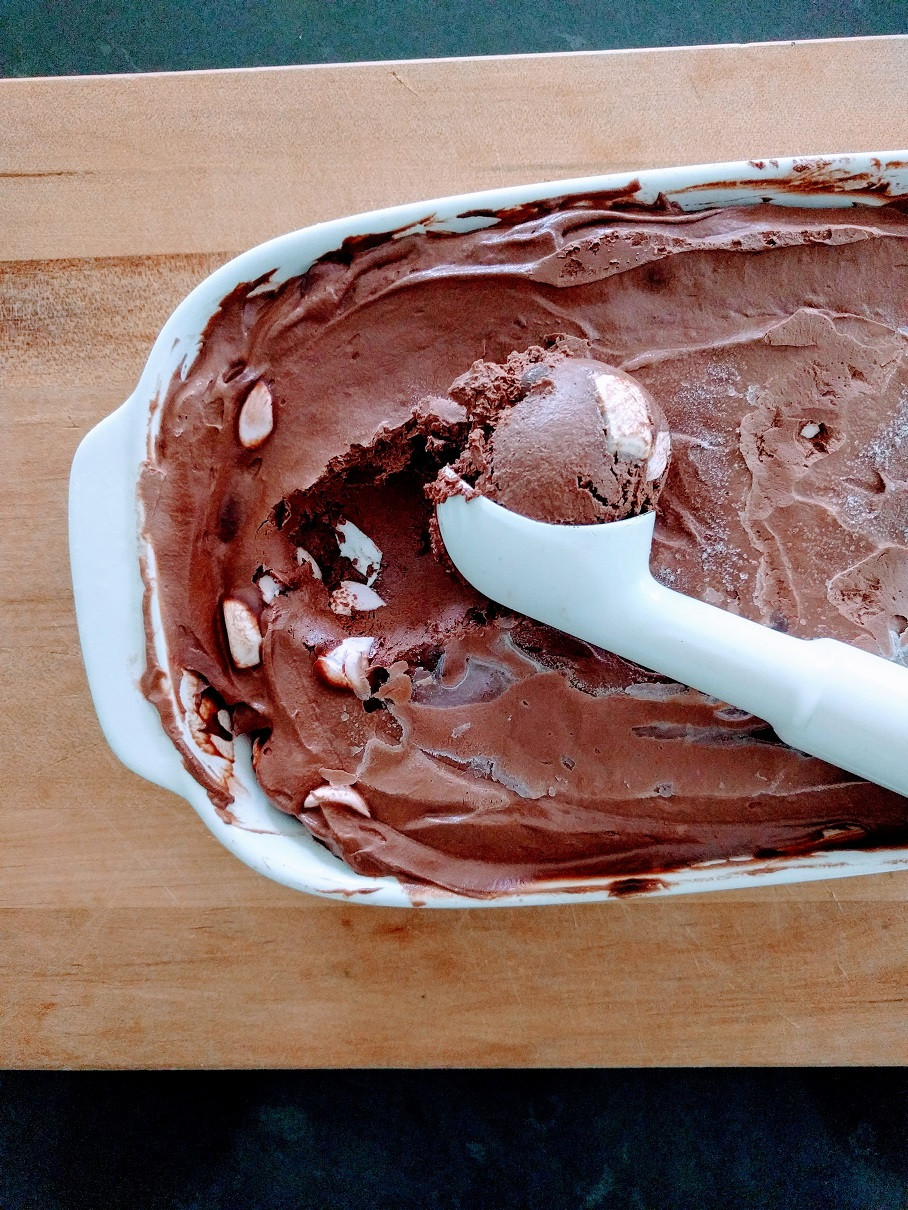 Ingredients
2 1/2 cups raw cashew pieces (about 370 g)
1 1/2 cup water, divided
1 1/2 teaspoons unflavoured powdered gelatine
2-3 desert spoons erythritol/stevia sweetener, or 1 teaspoon stevia powder. Start shy, you can always keep adding.
60g unsweetened chocolate (or substitute half with cacao butter)
1/2 cup Dutch cocoa powder
1 teaspoon vanilla extract
3/4 teaspoon ground cinnamon
3/4 teaspoon lemon juice
1/4 teaspoon sea salt
Optional Mix-Ins
1 cup sugar-free mini marshmallows
1/2 cup sugar free chocolate chips (or chopped dairy free chocolate)
Instructions
Place a loaf pan in the freezer to chill.
Soak the cashews in a bowl of warm water for 1-2 hours.
Pour 1/4 cup of the water into a saucepan and sprinkle the gelatin overtop. Set aside to bloom for 10 minutes.
Place the remaining 1 1/4 cups of water in a blender with stevia, vanilla, and cinnamon. Drain and rinse the cashews well and add them to the blender. Blend on low for 30 seconds, then on high for 1 minute, until the cashews are completely ground and the mixture is smooth. Pour the cashew milk into the saucepan. Set the saucepan over medium heat and whisk until the gelatine has dissolved completely. Remove it from heat and stir in the chopped chocolate (and cacao butter) until fully melted and incorporated.
Transfer the mixture back to the blender and add the cocoa powder, vanilla, cinnamon, lemon juice, chili powder, cayenne, and sea salt. Blend on high for 1 minute. Pour the chocolate custard into the chilled loaf pan and freeze for 1 hour.
Fold into the optional mix-ins
Cover and freeze until firm – 2-6 hours depending on how warm the mixture is.
To serve, remove the ice cream from the freezer and let it soften at room temperature 15 minutes before scooping.
Keep the leftovers hidden in the back of the freezer if you'd like to enjoy a second helping.
Prep time: 2 hour soaking time, 30 min prep, 4-6 hours setting time.
Serves: 6-10